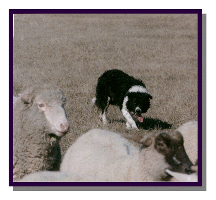 McCord's Stetson
Stetson is sire to Jack and Jean.
Stetson is a name that no one will forget in the herding world. Not only is he the second highest paid for border collie in the country, his reputation for perfection on the field speaks for itself. With only six trials in 2000 he ranked 56 out of the nations top 400 dogs with a combined total of 38.6 points. He blew the competition away at the 1999 and 2000 Ft Worth Stock Show with his wins. He then placed third at Meeker out of 113 dogs. In 1998 he was on Purina's Top Twenty Best Herding Dogs of the Year. He has consistently produced pups that are making a name for themselves too. At the highly competitive Nacogdoches Cattle Dog Futurity October 2000, his granddaughter won the against tough competition from around the world. Stetson has retired from competiton, but he lives on in his progeny. His son, Ben and father, Tag defended his title at the Ft Worth Stock Show in 2001, both father and son won the trial.... they wanted to keep it in the family.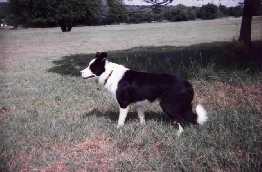 Sam sire to Stetson
Sam won 12 Open Trials before retiring. Plus, he recieved High-In-Trial with two first places at his first AKC herding trial in the Advanced "B" Course. He is a very competitive trial dog with outstanding tallent. He has produced muliple dogs that work and trial on both sheep and cattle. Sam's hips are OFA "Good", plus, he has produced multiple dogs with OFA Good and Excellent Hips. Sam is a black bi, short coat weighing 50 lbs. He is not only handsome and a tallented worker, his progeny are following in his footsteps. Out of the year 2000's top 400 Open trial dogs Sam ranked 63 and trialed only 4 times with a combined total of 37.8 points. He placed First at the Ozona, TX Open Sheep Trial out of 51 dogs. At the prestigious Meeker Trial he placed sixth out of 113 dogs.